Being back in hospital feels very strange and yet very familiar all at the same time.  For the first eight months of Jessica's life, this ward was our second home and whilst it's been two years since we were last here, in many ways it feels like it was almost yesterday.
My big girl has made me so proud over the last couple of days.  I'm proud of how well she has coped with the whole process of being back in for a cardiac catheter procedure.  She has taken it all so completely in her stride and was even quite excited at the prospect of "going to the doctors for a sleepover."  That beautiful smile mostly remained in place throughout all the pre-op preparations (blood tests, cannulations and removal of "stickies" being notable exceptions).  She didn't grumble at not being allowed breakfast and was quite excited when the theatre trolley (or "carriage" as she called it) arrived to take her to the cath lab.  Even in the anaesthetic room, she was happily engrossed drawing pictures on a magnetic drawing board whilst providing a running commentary on what she was drawing – a wonderful distraction from everything that was happening.  The "sleepy milk" going in her arm felt a little funny but she went off to sleep quickly and fairly happily.
Leaving your child and returning to their empty bed space is, for me, always the worst part – even when I know it is for a relatively minor procedure.  I am generally very good at holding back the tears and staying calm until after I have left Jessica, but there is always that moment just after I walk away when I can no longer hold them back.  The hospital chapel is always my first port of call – that time to sit somewhere quiet, light a candle and pray for my little girl and the team caring for her always helps me to take a big deep breath and find the strength for the wait ahead.
This time, thankfully, the wait didn't feel too long – helped by having Sophie to provide some wonderful distraction as we had fun together in the playroom.  Once Jessica was out of the cath lab, Sophie stayed with Daddy while I went to collect a very unhappy little Jessica who was in need of a lot of Mummy snuggles.  It wasn't too long though before she started to feel better again and that beautiful smile began to reappear.  Within a few hours, she seemed quite happy again and eager to go back to riding the Little Tikes cars up and down the ward.
The purpose of the cardiac catheter investigation was to give the team more information about Jessica's current cardiac state and help them plan when her big heart surgery might take place.  The results seem fairly encouraging – the pressures are good enough for the Fontan to take place, although there is a little concern that one of her lung arteries is (and has always been) quite small. It may be that this will grow a little more given time, but equally it may be that the increased blood flow that would result from the Fontan would help it to grow.  With regards to the next stage, the catheter indicates that the pressures are good enough for the Fontan to take place, but with things being fairly stable at present, there seems to be no urgency.  The team will discuss the results at their next team meeting and may make a suggestion for when it might take place but will also consider our thoughts on this too.  We'll know a little more once the team meeting has taken place.
Thinking ahead to next surgery has naturally left me feeling unsettled though.  There is a huge part of me that wants to put it off as much as I can, although as hubby has reminded me, it has to happen some time, and in all honesty, there will probably never be a point at which I feel ready for her to have it.  As parents, we try to do everything we can to keep our children safe – there is such an overwhelming urge to protect them as much as we can – and to know that there is so much that is beyond my control is hard to accept at times.  To have to trust someone else with your child's life is utterly terrifying and yet I know I have no choice but to do so.
For now, we'll play the waiting game a little longer and keep making memories, enjoying the moments and making the most of everyday family life.  No amount of worrying about tomorrow will change what will happen – all I can do is keep focusing on today, on that beautiful smile of my precious little girl and be thankful for the here and now.  She is a little trooper and I am so amazingly blessed to be her mummy.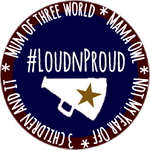 Save