From the mouths of babes is a weekly linky which invites you to share a post, old or new, about something your children have said. Perhaps they have just started babbling for the first time, or said their first definite word. It could be something cute, or funny, or incredibly embarrassing – whatever it is, I'd love to hear all about it.
Thank you so much to everyone who linked up last week – I really enjoyed reading all your posts about the things that your little ones have been saying and there were so many adorable moments from last week's posts. I loved Boo's gorgeous infectious giggle shared by Odd Socks and Lollipops and the wee girl's take on 'bless you' adapted especially for coughs and sneezes from Mum turned Mom.
We've been away on holiday for the past week travelling around the country. We often stay in Premier Inns when we are travelling as we know what to expect when we get there with regards to facilities and Jessica now recognises when we are reaching our overnight stop point and gets quite excited about the prospect of "staying at the moon"! I love the fact that she refers to all Premier Inns as "the moon" – it makes the trip sound quite exciting when we finish our activities for the day and get in the car to "go to the moon"!
We did have a moment of disappointment though one day when we were still some distance away from our overnight stop point at tea time and had to find somewhere we could stop and eat so headed to another Premier Inn en route (as we knew there would be a family friendly restaurant attached) and had to explain to Jessica that we weren't staying at that particular moon!
If you'd like to share your posts about something your children have said (or sung!), then please add the badge code below and link up with me. The linky opens each Monday from 6am and closes on Friday at 11pm so there is plenty of time to link up your posts (old and new posts are welcome!). I will also try and share posts via Twitter – please use the hashtag #ftmob and I'll do my best to retweet them. I also have a Pinterest board and will be sharing posts here too.
Look forward to hearing what your little ones have been saying.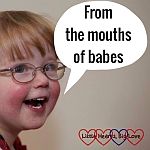 Loading InLinkz ...