From the mouths of babes is a weekly linky which invites you to share a post, old or new, about something your children have said. Perhaps they have just started babbling for the first time, or said their first definite word. It could be something cute, or funny, or incredibly embarrassing – whatever it is, I'd love to hear all about it.
Thank you so much to everyone who linked up last week – I really enjoyed reading all your posts about the things that your little ones have been saying – the embarrassing and funny things and the adorable moments. Le Coin de Mel's family updates are always such a lovely read – well done to baby Wriggly who said her first word "Daddy" and I loved that Jumpy says "duddle" for cuddle – this is Sophie's newest word and it sounds so adorable! I also loved Becoming a Stay at Home Mum's post about her ordinary Sunday and Monkey saying "this cheese is significant" and "Darling… what are you doing?". Children really do come out with some wonderful things, don't they?
We were due to meet up with Grandma one afternoon the other week and when I picked up Jessica from preschool at lunchtime, I said we were going out and invited her to guess where we might be going.
"In the Night Garden?" she asked, hopefully (Daddy made the mistake of telling her that we'd booked tickets to see In the Night Garden Live which isn't until June and now she keeps asking about it!) "Peppa Pig?"
"No."
"Hospital?"
Just goes to show how often we have to go to hospital for appointments given how high this was on Jessica's list of potential places we might be going.
We had a similar situation at the beginning of the year when I took Jessica to the doctor's surgery for her preschool booster jabs. She thought that our doctor's surgery was a hospital – I had to explain that the doctor's surgery is like a hospital but smaller and no-one stays there at night. I'm sure that it is much more normal to explain the hospital to children as being like the doctors but bigger and with beds rather than explaining it the other way around!
Jessica is also now becoming more aware of her scar. She knows that she has a "zip" and will point to it and say "my zip". She also knows that Mummy, Daddy and Sophie do not have zips but that her friend K does. Now that she's also at the "why?" stage, she has asked me why K has a zip and I've explained that it was because the doctors had to make her poorly heart better which lead to a few more questions about "why?" I'm not entirely sure that she really understood my answers though but those are questions that I am sure I will be having to answer again at some point in the future.
If you'd like to share your posts about something your children have said (or sung!), then please add the badge code below and link up with me. The linky opens each Monday from 6am and closes on Friday at 11pm so there is plenty of time to link up your posts (old and new posts are welcome!). I will also try and share posts via Twitter – please use the hashtag #ftmob and I'll do my best to retweet them. I also have a Pinterest board and will be sharing posts here too.
Look forward to hearing what your little ones have been saying.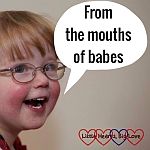 Loading InLinkz ...