Jessica had her latest cardiac check-up yesterday afternoon. She was so good during her heart scan and stayed nice and still, happily watching Postman Pat throughout, and just got a little upset when I had to remove the ECG stickers. It is always such a huge relief to hear that she is doing well, her heart function remains stable and there are no plans for any intervention to take place until next year. Fingers crossed that this continues to be the case when we go back in four months' time.
Out and About:
Whilst the weather has been quite mixed this week, we've been making the most of the sunny spells. Jessica and Sophie had a wonderful day at Chiltern Open Air Museum, seeing the lambs in the fields, exploring the old buildings and dressing up in some of the costumes. There is so much space there for them to run about in and they certainly enjoyed making the most of it.
We may have visited all but one of the Olympic and Paralympic gold postboxes but there are a couple of variations on the gold postboxes we'd not visited – two sets of gold lock gate controls at Bray and Boveney locks, painted in honour of the rowing teams. Saturday was the perfect day to take a walk along the Thames and watch the boats go through the locks and we had a lovely afternoon in the sunshine.
Fun at home:
Both Jessica and Sophie had fun doing some ziplock bag painting – a great way for them to enjoy exploring paint and colours without any mess to clear up afterwards!
Jessica and I had a lovely afternoon playing her Three Little Pigs board game for the first time while Sophie was napping. She loved putting the three houses together and spinning the wolf spinner for the wolf to "huff and puff and blow your house down!"
We saw a puppet version of the Three Little Pigs at the Duplo Theatre in Legoland when we were there a couple of weeks ago and the story really seems to have captured Jessica's imagination. After winning a couple of times on the board game, she then wanted to make some piggies and a wolf out of paper plates (with a little help from Mummy).
Piggies and wolf completed, Jessica has now requested that we build the houses too so I have got some cardboard boxes ready for making these over the next week or so.
Time for me:
There's not been a lot of me time this week – just a little time in the evenings working on the blog – but I've been having so much fun with my girlies this week that I haven't really noticed the lack of me time!
On the blog:
I was featured over on What Katy Said's blog as part of her Real Mums series this week – thank you Katy for including me in this.
My happiest moment:
Watching Jessica and Sophie running about the village green at the open air museum, hand-in-hand and having so much fun together.
Next week I would like to:
Make the three little pigs' houses with Jessica.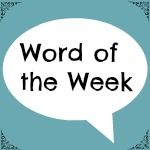 Like my blog? Nominations are now open for the MAD Blog Awards and you can vote for me here: