Parenting Pep Talk is a fortnightly series of guest posts all about encouraging other parents by sharing some of our happy moments, the advice that has worked for us and some positive words of encouragement.
Today's post is from Yvonne, who blogs at Double the Monkey Business. Here's a little more about Yvonne:
I am a writer/blogger/mummy. I work part-time for a newspaper and I am a social media addict. I love listening to music and I find baking very therapeutic. Although, I don't think I will be applying for Bake Off any time soon, not if some of my recent creations are anything to go by.
A few years ago I started blogging, however it was more of a diary to document what I was doing with the boys. I really enjoyed doing it, so decided to take blogging a bit more seriously and created my blog Double the Monkey Business at the start of 2016.   This blog focuses on parenting, the birth of my twins, suffering from pre-eclampsia and surviving HELLP syndrome, which is rare and potentially fatal. I really hope to raise awareness of HELLP and have found it very therapeutic writing about my experiences. Recently I have discovered Instagram and I have loved playing around with fun photos of the boys and their adventures, so I have incorporated this into some of my blog posts too.
1) Tell us a little bit about you and your family.
I am Yvonne and I live with my husband James and three-year-old twin boys. We split our time between the UK and Germany. After being a stay-at-home mum for three years, I recently started working again and the boys have started going to nursery.
2) How would you describe your parenting style?
I want to be relaxed and laid-back. However, in reality I am a bit of a worrier. I find it hard not to jump in to help them at every little thing.
Before I had my boys I was so sure that I was going to be a tough mummy, I would be strict and not let them away with anything. It turns out I am lot softer than I had thought I would be. In particular when it comes to sleeping, I often declare I am not going to let them run rings round me but I end up giving in and giving them sneaky cuddles.
3) What's your favourite thing about being a parent?
I love cuddles, there is nothing nicer than getting a cuddle from the boys
I love the laughter as well, the house is filled with fun since the boys arrived – well when they are not throwing a tantrum of course. The boys are little comedians and they recently realised they can tell jokes. The favourite one is "why did the chicken cross the road", "because he didn't want to go home". I think they may have a way to go yet before they perfect their stand-up routine.
4) What piece of advice have you been given that you found especially helpful?
My mum said to me once 'choose your battles wisely'. That has been a great bit of advice. Sometimes I am in the middle of a debate with one of the boys about what T-Shirt they are going to wear and I realise it just doesn't matter. There are more important times when I need to put my foot down.
5) What one piece of encouraging advice would you give to a new parent?
Trust yourself. You get so much – often conflicting – advice thrown at you from well-meaning people and the only person that knows your family is you. You know what is best for your children. Try to ignore the people making digs about things you are doing / not doing. I have had many people try to give their tuppence worth about various things, sleeping, eating, potty training and I have come to realise, it really isn't up to them. Be confident in what you are doing, you are amazing!
6) Can you share one of your favourite parenting moments?
It is really hard to choose, there have been so many lovely moments, Christmas, birthdays, holidays…
The overwhelming one was definitely the day we left the hospital. I couldn't believe that we were leaving with two little babies. It was such a surreal experience. It was amazing and I realised our lives had changed forever.
7) Anything else that you would like to share to encourage other parents?
I am starting to realise that everything passes in an instant when it comes to parenting. They go from baby-to-toddler-to- child in a heartbeat (even though every day seems so long sometimes, not really sure how that works). Try to enjoy every minute and breath deeply through the hard times.
Thank you Yvonne for sharing your positive parenting moments and the advice you have found helpful.
You can connect with Yvonne on the following social networks:
Twitter
Facebook
Google+
Instagram
Bloglovin
If you'd like to share some of your positive parenting moments on the Parenting Pep Talk, then let me know in the comments below and I'll email you with more details.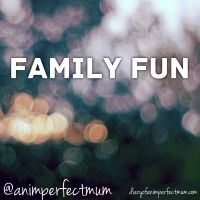 Save
Save