From the mouths of babes is a weekly linky which invites you to share a post, old or new, about something your children have said. Those adorable mispronounced words, the glimpses into their imaginations, the blunt observations – whatever it is, I'd love to hear about it!
A big thank you to everyone who linked up last week.  Inside Martyn's Thoughts and Life with #BabyPink and the Boys both shared some embarrassing moments from their boys this week – very funny to read about but I am sure that I'd have wanted the ground to swallow me if I'd been in their shoes!
This week I'm sharing some of the funny and adorable things that Jessica has been saying.
Both the girls love to give me spontaneous hugs.  As the girls were sitting on the stairs putting their shoes on, Sophie suddenly gave me a big cuddle.
"Awww, you love your Mummy, don't you Sophie?" I said.
"I love your Mummy too, Sophie," Jessica piped up.
I'm nearly always the one who gets up first with the children in the morning.  It's not that hubby is unwilling to, it's just that it takes him a while to get going in the mornings.  One morning I asked Jessica to go and tell Daddy to wake up.  Her response?
"But we always say Daddy wake up.  Mummy just gets up!"
Yup, that sounds about right to me!
The girls love to have their music on in the car when we are out and about and thankfully I don't particularly mind listening to the CBeebies CD on repeat.  One morning hubby wanted the radio on instead and told the girls that we were listening to the radio this time, not CBeebies.
"Can I have CBeebies on when the radio finishes?" Jessica asked.
No problem, but you might be waiting a long time…!
Whilst Jessica is now able to pronounce most of her words clearly, there are still a few Jessica-isms that appear from time to time.  Here are a couple of the ones I love at the moment.
"Mingoes" = flamingos
"Butlins" = buttons
Finally, I had to chuckle when out and about on an Easter trail recently with arrows pointing the way.  One of the arrows fastened to a post was pointing upwards indicating that we needed to go straight on but Jessica took it literally:
"Silly arrow! We can't go that way, we haven't got wings!"
If you have any posts about something that your children have been saying lately, please do come and link up. The linky opens each Monday from 6am and closes on Friday at 11pm so there is plenty of time to link up your posts (old and new posts are welcome!). Please add the badge below to your post so others know where they can also link up (the badge code is below). I will also try and share posts via Twitter – please use the hashtag #ftmob and I'll do my best to retweet them. I also have a Pinterest board and will be sharing posts here too.
Looking forward to reading what your little ones have been saying!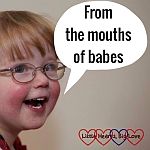 Loading InLinkz ...