From the mouths of babes is a weekly linky which invites you to share a post, old or new, about something your children have said. Those adorable mispronounced words, the glimpses into their imaginations, the blunt observations – whatever it is, I'd love to hear about it!
A big thank you to everyone who linked up last week. I enjoyed reading Small Stuff and Me's list of toddlerisms that have entered into her own vocabulary almost without realising it and For the Love of Repeating Myself made me chuckle with her daughter's comment that her sister wasn't missing out on going to choose a turkey because it was a dead one "all squished into a package"
Both girls have made me laugh this week with the funny things that they have said and here are some of my favourites:
Jessica: "Can Daddy get me ready?"
Me: "No, Daddy has to go to work."
Jessica: "What, again?!"
Me: (watching Sophie mouthing some words whilst doing hand actions): "Wind the bobbin up, wind the bobbin up…"
Sophie: "No, silly Mummy! It's der Wheels on der Bus!"
Sophie: (holding a dolly's bottle and pretending to spray it at me) "Sssschh sssschh" (grabs cloth and rubs my head with it) "Dare you doe!" I felt like a piece of furniture being polished!
Jessica at the end of the carol service at church.  "Well done, Mummy.  You were sitting very quietly."
As Jessica gets older, the adorable mispronunciations have mostly disappeared but every so often, there are still a couple that come out:
Seeing "Cinderbella" at our friends' Christmas fayre
Asking for "trumpets" (crumpets) for breakfast
If you have any posts about something that your children have been saying lately, please do come and link up. The linky opens each Monday from 6am and closes on Friday at 11pm so there is plenty of time to link up your posts (old and new posts are welcome!). Please add the badge below to your post so others know where they can also link up (the badge code is below). I will also try and share posts via Twitter – please use the hashtag #ftmob and I'll do my best to retweet them. I also have a Pinterest board and will be sharing posts here too.
Next week will be the last #ftmob linky of 2015 as there will be no post between Christmas and New Year. A huge thank you to everyone who has linked up during 2015 – I can't quite believe that this little linky is almost a year old and I have really enjoyed reading all the posts that you have linked up over the past year – the things your little ones have said have made me smile so often, so thank you again for sharing them.
Looking forward to reading what your little ones have been saying this week.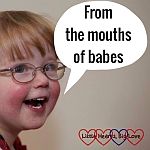 Loading InLinkz ...