From the mouths of babes is a weekly linky which invites you to share a post, old or new, about something your children have said. Those adorable mispronounced words, the glimpses into their imaginations, the blunt observations – whatever it is, I'd love to hear about it!
A big thank you to everyone who linked up last week. I found Man Vs Pink's post about his discussion with his daughter over the "Slave Leia" outfit after she asked why Leia didn't have any clothes on very thought-provoking. The Toddler asking Silly Mummy in R is for Hoppit's post whether she wanted "to look at the cheese" may have just become my new favourite way to ask to look at photographs – what an adorable expression!
I always love listening to Jessica chattering away to herself when she is playing with her toys and getting little glimpses into the world of her imagination. I also love to hear the way that she describes things. Last week, when playing with Playmobil, she picked up the dog kennel piece and told Sophie that it was "the shell of the dog's house". I now have a wonderful image in my head of a dog walking around wearing a kennel on his back like a snail would wear his shell!
Jessica's been quite fascinated with birthdays and how old people are and I love the way that she asks about this:
"What Sophie old?" (how old is Sophie)
"What number old am I?" (How old am I?)
"Is E two-old?" (Is E two years old?)
She's also starting to understand more about things that are in the past and over with. Since starting back at preschool, she's been asking me when her friend H will be at preschool again. I don't think she had quite grasped that H being at 'big school' meant that he wouldn't be at preschool anymore until last week.
J: "How many sleeps until H go to preschool?"
Me: "H won't be going to preschool any more, sweetie. H is at big school now."
J: (very sadly) "H go to preschool yesterday."
If you have any posts about something that your children have been saying lately, please do come and link up. The linky opens each Monday from 6am and closes on Friday at 11pm so there is plenty of time to link up your posts (old and new posts are welcome!). Please add the badge below to your post so others know where they can also link up (the badge code is below). I will also try and share posts via Twitter – please use the hashtag #ftmob and I'll do my best to retweet them. I also have a Pinterest board and will be sharing posts here too. I'm also linking up this month's Siblings update.
Looking forward to reading what your little ones have been saying this week.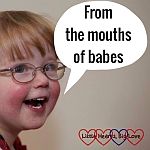 Loading InLinkz ...