From the mouths of babes is a weekly linky which invites you to share a post, old or new, about something your children have said. Those adorable mispronounced words, the glimpses into their imaginations, the blunt observations – whatever it is, I'd love to hear about it!
A big thank you to everyone who linked up last week.  I love The Toddler's slightly insulted denial that she was a Hufflepuff and the adorable moments between her and The Baby that R is for Hoppit shared, and Pinks Charming's video of her girls role-playing the school run together with a reminder to be careful of the busy road was just gorgeous.
This week I've treated myself to this fab little journal which is perfect for writing down all the little things that the girls say. I love the layout of each page with space to record dates and ages as well as what has been said and there are plenty of pages to keep me going for quite some time. It's available from Amazon for £10.
Here are a few of the things that the girls have said this week:
"I want Daddy E to push me!" (Jessica asking her friend E's daddy to push her on the swings at the park)
"Look, I got ten sticky hands" (Jessica after eating cake)
"Don't pull my nails off, Mummy, they're mine!" (whilst I was trying to clean under Jessica's nails after she'd been "helping" me in the garden).
"Dumming to dett you!" (Sophie chasing Jessica)
"Love you mini-moons" (Sophie's way of saying 'I love you millions')
If you have any posts about something that your children have been saying lately, please do come and link up. The linky opens each Monday from 6am and closes on Friday at 11pm so there is plenty of time to link up your posts (old and new posts are welcome!). Please add the badge below to your post so others know where they can also link up (the badge code is below). I will also try and share posts via Twitter – please use the hashtag #ftmob and I'll do my best to retweet them. I also have a Pinterest board and will be sharing posts here too. I'm linking up my latest Siblings update which takes a look back over what my girls have been doing over the last month.
Looking forward to reading what your little ones have been saying this week.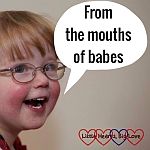 Loading InLinkz ...