From the mouths of babes is a weekly linky which invites you to share a post, old or new, about something your children have said. Perhaps they have just started babbling for the first time, or said their first definite word. It could be something cute, or funny, or incredibly embarrassing – whatever it is, I'd love to hear all about it.
Thank you so much to everyone who linked up last week – I really enjoyed reading all your posts about the things that your little ones have been saying and there were some very funny moments shared last week. I love the comments made during a trip to the wildlife park shared by Inside Martyn's Mind – the remarks on the baboon particularly made me chuckle – and I also loved Le Coin de Mel's daughter Jumpy saying "I wanna go disco. I don't wanna go bed!" – a mini party animal in the making!
I'm sharing a few recent Jessica-isms this week – she's become really chatty and often keeps up an almost endless stream of narrative, telling us what she's been doing and what she's been playing and I love hearing her chatter away.
"Daddy you are 36 and Mummy is 24" – how to make Mummy very happy – reduce her age by a decade whilst getting Daddy's almost right!
"Yoo hoo! Daddy!" – a frequent call from the back of the car whilst on our travels – I have no idea where she's picked this expression up from!
"Good idea, Mummy!" – another favourite expression at the moment.
"Oi Mummy! You mustn't throw. That's naughty, Mummy – you might break something!" – as I threw a toy into the box at tidy-up time. Clearly this particular message has sunk it!
"Mummy, you mustn't be horrible to Daddy" – as we were leaving the house for toddler group following a slightly heated exchange between hubby and myself earlier that morning.
"That's wonderful!" – Jessica's reaction to seeing a phone photo of a friend's dog.
"Bricks… eyes…. monkey…" – Jessica "shopping" amongst the toys in the living room (Mr Potato Head was out at the time hence the eyes!)
We also had a lovely moment with both Jessica and Sophie in the back of the car when they were both singing "The Wheels on the Bus" but Sophie was a couple of lines behind and so it sounded like they were singing it as a round as the timing was so spot-on.
If you'd like to share your posts about something your children have said (or sung!), then please add the badge code below and link up with me. The linky opens each Monday from 6am and closes on Friday at 11pm so there is plenty of time to link up your posts (old and new posts are welcome!). I will also try and share posts via Twitter – please use the hashtag #ftmob and I'll do my best to retweet them. I also have a Pinterest board and will be sharing posts here too.
Look forward to hearing what your little ones have been saying.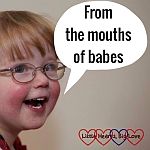 Loading InLinkz ...