My arrival in the world was quite a surprise for my mum. She only discovered that she was having twins after my sister was born and the midwife said "hang on a minute, there's another one!" I love the fact that every time my mum tells this story, she also says that it was the best moment of her life. My parents had intended to call my sister Kerrie Louise, but instead they named her Kerrie and me Louise. We were born two months early and spent our first few weeks in the neonatal unit.
At 6 weeks old we came home for the first time.
At 3 months we were christened and became aunties when our nephew John was born.
At 15 months, we both started walking.
At 2, we were both bridesmaids for the first time at our cousin's wedding.
At 3, we enjoyed regular visits to see our grandparents, great-aunts and great-uncles in Chatham.
At 4, we were bridesmaids again at our sister's wedding and started school for the first time.
At 5, we helped my grandparents move house after Nanny had to have her leg amputated.
At 6, our Nanny died. We stayed with my Grandad for a few days after the funeral. My dad had to go back home to work. I was so upset by him leaving that I tied him to the chair with my skipping rope and told him that I wouldn't love him anymore if he went. When he came back a few days later, I wouldn't speak to him at first. I still remember the pain I felt about him having to leave to this very day.
At 7, we started piano lessons and Brownies.
At 8, I broke my arm playing football.
At 9, I took my first piano exam.
At 10, my sister and I celebrated our birthdays during a school trip to Swanage – our first birthday without having our parents with us on the day.
At 11, I chose to go to a different secondary school from my twin sister.
At 12, I became the target for school bullies.
My teenage years
At 13, I changed schools and went to my sister's school where I was much happier.
At 14, I played Cecily in a school production of 'The Importance of Being Earnest'.
At 15, I started writing my first 'novel' which I still have it. It makes me cringe slightly to read it, but it also brings back fun memories of writing it which make me smile.
At 16, I passed 11 GCSEs and started my A Levels.
At 17, I went on holiday to the Isle of Wight, where I was crowned 'Miss Whitecliff Bay.' I met R, my first serious boyfriend, later that year.
At 18, I headed off to university to study Biomedical Sciences and joined the ballroom dancing society.
At 19, a couple of weeks into the autumn term, a tall guy called Michael turned up midway through the beginners' ballroom class. I ended up dancing with him. He asked me if I'd been to many classes before. I told him I was one of the demonstrators! Later that year, R and I got engaged.
My twenties
At 20, I started doing acrobatic rock n roll with my friend Gavin. We entered our first competition and came second – beaten by Gavin's girlfriend Alex who was dancing with Michael.
At 21, I split up with my fiancé just before the end of the summer holidays. By the end of Freshers' Week, Michael and I were an item.
At 22, I was costume designer for a university production of 42nd Street. I learned dressmaking by jumping in and making 50 dresses in the space of four months!
At 23, I passed my driving test and went back to university to do a midwifery degree.
At 24, I was my twin sister's birth partner when her first daughter was born.
At 25, I danced with Michael at Blackpool Tower ballroom. We had a wonderful holiday travelling all around the country visiting the seven wonders of the canal network.
At 26, I did a fear of flying course and went in a plane for the first time. I also qualified as a midwife. A few months later, I was my twin sister's midwife when her second daughter was born.
At 27, my friend Lindsay and I enjoyed a girls weekend away at the holiday park ten years after we'd first met there as teenagers.  It hadn't changed!
At 28, I performed my first leading role when I played Victoria in the musical "Follow That Girl"
At 29, I visited the WW1 battlefields in the Somme and Flanders with Michael, who proposed to me on Armistice Day.
Married life and parenthood
At 30, I married my gorgeous hubby. My dad made everyone cry with his brief but moving speech. He died just a few months later. I'm so glad that I have the video of his speech so that I can still hear him telling me how much he loved me.
At 31, I fell pregnant with Jessica. Our world was turned upside-down at our 20 week scan when we found out that she had a severe congenital heart defect.
At 32, I discovered what it meant to be a heart mummy, putting my faith in God and the hands of skilled surgeons. One pioneering in-utero surgery at 28 weeks to give Jessica a chance to survive and three more open-heart surgeries after she was born.
At 33, I had the joy of celebrating Jessica's first birthday. A few months later we discovered that we were expecting another baby.
At 34, I gave birth to Sophie in a pool at home with two lovely midwife friends, my twin sister and hubby supporting me. Jessica got to meet her baby sister a few minutes after she was born. A few weeks later, we went to the children's Christmas party at 10 Downing Street thanks to an invite received via Jessica's community nurse who worked for the Alexander Devine Children's Hospice charity.
At 35, I became a blogger and rediscovered my love of writing in a whole new way!
Thank you to Mel at Le Coin de Mel whose original post 'Introspection' inspired me to write this. I was also recently nominated for the One Lovely Blog Award by Run, Jump, Scrap and Awesome Austerity and for the Versatile Blogger award by Hope from a Butterfly (thank you all for the nominations). I thought I would share the seven facts requested through these awards via this post instead.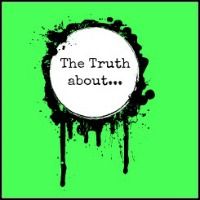 Save