It's been all about sharing papery loveliness over on Instagram this month as I've been joining in with The Reading Residence's #30daysofpaper photo challenge for the month – sharing a photo of papery products each day in response to the daily theme. It's also encouraged me to treat myself to a couple more notebooks, some stickers and a pack of pretty sticky notes (not that I needed that much encouragement!)
Read
I'm keeping up with my challenge to read a book a month and this month's book was "The Last September" by Elizabeth Bowen which I received as a result of last month's book swap. Whilst I found it an interesting glimpse into life in Ireland in 1920 during the Troubles, I struggled to really connect with any of the characters. I read it feeling as though I was watching the story unfold through glass instead of becoming swept up in the story. The viewpoint was mostly from a 'privileged classes' perspective which is perhaps why I found it difficult to identify with the characters. Overall, I liked it even if I did feel a bit detached from the story at times but it's not one I can see myself re-reading.
Write
I'm finding myself using a notebook and pen to draft blog posts and make note of ideas more often these days – there's just something about writing by hand that helps to free up my thoughts.  This beautiful notebook was one of my favourite purchases this month.
 
Create
Jessica and Sophie have both been enjoying some papery crafts this month – doing painting with their cousins, getting crafty on a trip to the Roald Dahl museum and making birds and butterflies out of paper plates at home.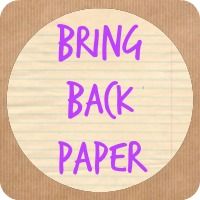 What papery activities have you been enjoying this month?