From the mouths of babes is a weekly linky which invites you to share a post, old or new, about something your children have said. Those adorable mispronounced words, the glimpses into their imaginations, the blunt observations – whatever it is, I'd love to hear about it!
A big thank you to everyone who linked up last week. I loved R is for Hoppit's post and the way The Toddler's menu started off with "Dear The Toddler" and her attempt to use reading the menu to try and get a balloon and Life with #BabyPink and the Boys made me chuckle with a question about growing a burger tree.
One of my girls' favourite DVDs is "the Frère Jacques DVD" (so called because of the song that plays at the start – its official name is 'First Words in French'). I've been using this DVD and a couple of apps on my phone to try and teach them both a little French. My own French skills are not brilliant – enough to just about get by on holiday without constantly resorting to the phrase book but that's about it. One of my aims this year is to improve my French and I've been using the Duolingo app on my phone each day to help with this.
It is wonderful to see how much the girls enjoy learning another language. They will sit on my lap and point to my face – "les yeux", "le nez", "la bouche" or hold up cutlery at the table "la fourchette", "la cuillère". Sophie made me chuckle when we were out driving somewhere recently and she started shouting at me in French from the back of the car "Maman! Maman!" Jessica is now very confident at counting to ten in French and Sophie is getting there and they both often ask "can we do French on your phone please, Mummy?" They also love the few French storybooks we have (although my pronunciation of some of the words is very dodgy – really must try and improve that before they start copying it!)
If you have any posts about something that your children have been saying lately, please do come and link up. The linky opens each Monday from 6am and closes on Friday at 11pm so there is plenty of time to link up your posts (old and new posts are welcome!). Please add the badge below to your post so others know where they can also link up (the badge code is below). I will also try and share posts via Twitter – please use the hashtag #ftmob and I'll do my best to retweet them. I also have a Pinterest board and will be sharing posts here too.
Looking forward to reading what your little ones have been saying!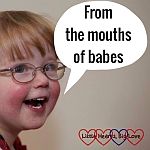 Loading InLinkz ...
Save