Encouraging a love of science in our children is something that hubby and I would like to do.  We both have science degrees and love exploring ways of making science fun and engaging for our children.  We also both love canals and narrowboats. Combining the two by taking part in the Family Science Challenge Day at the London Canal Museum therefore sounded very appealing.
The Spaghetti Sculpture Challenge
On arrival at the museum, we were given our list of challenges to complete.  First up was the spaghetti sculpture challenge – encouraging us to create a freestanding structure out of marshmallows and spaghetti.  The marshmallow supply was quite low when we were there. It was replenished shortly after we moved on. With hindsight, we would have been better leaving this one and coming back to it later!
Jessica quite enjoyed sticking the spaghetti into the marshmallow though and being shown how to build a basic pyramid structure. Sophie was more interested in trying to eat them. They'd clearly been handled many times by that point though so this wasn't the best idea! Our finished structure was 14cm high. It was far from the tallest, but we had fun making it all the same!
The boat building challenge
The boat building challenge was easily the girls' favourite challenge of the day.  We had to make a boat using a variety of different materials and then put a teddy bear inside to see if he could sail across the paddling pool without going overboard.  This was very successful. Jessica pulled out two items from the box – a thick piece of polystyrene and a plastic food tray which she helped me tape together.  It made a perfect boat. Teddy stayed dry until he was thrown overboard for a swim!  Jessica on the other hand, decided to lean on the edge of the paddling pool to get a better view and promptly ended up soaking herself and the floor!
Building challenges
Next up was the bridge building challenge. This challenge was all about creating a bridge from strips of paper and plastic cups and seeing how many weights it could hold.  Our bridge was a very simple design with a single strip of paper taped to three cups.  Given how structurally unsound it appeared, I was surprised by how many weights it was able to support. It turned out the edges of the weights were actually resting on the cups.  We didn't pass the challenge as our bridge was too narrow for the boat to pass underneath but the girls enjoyed making it all the same!
Building a strong wall out of Lego was also a popular challenge with my girls. Building a tower was more appealing that trying to work out how to make it strong. They had fun though and that was what really mattered!  We also made a sailing boat from of a thin piece of polystyrene with a piece of plasticine holding a stick for a mast, plus a paper triangle sail. Jessica chose a very long stick for the mast. I wasn't sure that the boat would float at all without toppling over. Surprisingly though, it did sail successfully across the paddling pool!
Does it float?
The girls also enjoyed dropping various objects into a tub of water and discovering whether they floated or sank. Hubby showed them how to put a tissue in an upside down plastic cup and put it under water without getting the tissue wet. The tissue stays dry because air is trapped in the cup, creating an air pocket around the tissue.
Learning about locks
Hubby also enjoyed teaching them how locks work using the model of a canal lock. This is something that I have also enjoyed trying to explain to them whenever we've been on walks along the canal.  The model was a great way of helping to show them more clearly how the locks work. Sophie was too little to understand, but Jessica managed to grasp our analogy of locks being a bit like giant bath tubs which get filled and emptied to help boats go up and down in the water.
There was an activity area with some books and colouring sheets to help younger children learn more about canals.  Seeing the Rosie and Jim books brought back memories. I used to love that programme when I was a child!  Hubby had fun building a Roman arch while the girls were busy exploring the activity area.
Life on a canal boat
Jessica enjoyed dressing up in some of the period costumes. Sophie was less keen on this! Both girls loved exploring the canal boat and the living area inside.  Jessica was quite fascinated by the pull down table and bed and hearing about how a family all lived inside such a small space. At one point, she started giving another museum visitor a bit of a guided tour around the cabin, showing and telling them where everything was!
We might not have successfully completed all of the challenges, but we did give them all a try. Points were awarded for completion of activities though, rather than doing them well. As we managed to complete them all, we came 2nd overall with a score of 210.
The girls might not have really grasped any of the science behind the activities (after all, they are only little!) but they had a lot of fun taking part. Hubby certainly enjoyed showing them how to do various activities too. In fact, I'm not sure who had the most fun!
London Canal Museum is open Tuesdays-Sundays from 10am-4.30pm.  Admission costs £4 for adults and £2 for children aged 5-15.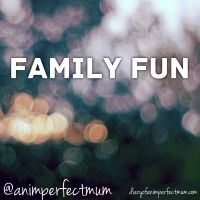 Save