From the mouths of babes is a weekly linky which invites you to share a post, old or new, about something your children have said. Perhaps they have just started babbling for the first time, or said their first definite word. It could be something cute, or funny, or incredibly embarrassing – whatever it is, I'd love to hear all about it.
Thank you so much to everyone who linked up last week – I really enjoyed reading all your posts about the things that your little ones have been saying – the embarrassing and funny things and the adorable moments. Hope from a Butterfly's eldest daughter crying happy tears at being blessed with a little sister made my heart melt as did the post from The Reading Residence sharing a list from her five year old about what makes her a good mummy.
We've been having some wonderful moments with Jessica dressing up and getting glimpses into her imaginary world over half-term. Here are a few of them:
Jessica: "I'm a fairy princess. Sophie – you be a fairy princess too and Grandma, you be the Queen and Mummy, you be the duck."
I can't help feeling that I drew the short straw there! We've done some dressing up a couple of times since and each time, Jessica has insisted that I be the duck. I have absolutely no idea why her imaginary princess world includes a duck, but there you go.
Jessica (waving her fairy wand about): "I'm waving my magic wand to make some buttons" (of the chocolate variety)
(Waves magic wand around and then frowns and hands it to Grandma.
"Grandma, make it work!"
Grandma (to Jessica who is looking out of the window): "What are you looking at?"
Jessica: "Trees"
Grandma: "Are there any tigers in the trees?"
Jessica (in a 'don't be silly Grandma voice'): "No Grandma. Not tigers.  Monkeys. They hungry. They have no bananas."
If you'd like to share your posts about something your children have said (or sung!), then please add the badge code below and link up with me. The linky opens each Monday from 6am and closes on Friday at 11pm so there is plenty of time to link up your posts (old and new posts are welcome!). I will also try and share posts via Twitter – please use the hashtag #ftmob and I'll do my best to retweet them. I also have a Pinterest board and will be sharing posts here too.
Look forward to hearing what your little ones have been saying.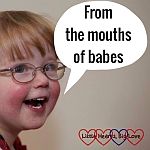 Loading InLinkz ...