From the mouths of babes is a weekly linky which invites you to share a post, old or new, about something your children have said. Those adorable mispronounced words, the glimpses into their imaginations, the blunt observations – whatever it is, I'd love to hear about it!
A big thank you to everyone who linked up last week.  I loved Writing Bubble's son's description of his somewhat dramatic Lego wedding scene and Mummy Here and There's son pretending to be a helicopter and wanting to go on the "bouncealine".
Jessica celebrated her 4th birthday yesterday. She was so excited about it – asking every night "how many sleeps until my birthday?" and counting down the number of sleeps. I spotted the book "How many sleeps till my birthday?" whilst shopping for some birthday presents and this has been the perfect bedtime book for the last week. It does mean I hear a lot of "Daddy Grizzle, Daddy Grizzle – how many sleeps till Christmas?" repeated and I suspect we'll be reading the book quite frequently even though her birthday is now over!
We had a very excited little girl all day yesterday, and "it's my birthday! I'm 4!" was an almost constant refrain at times. Seeing her birthday card on CBeebies was a magical moment – "Look, Mummy, it's me! It's Jessica on the telly!" and it was wonderful to see the joy on Jessica's face as she opened each of her presents "Oh wow!" was nearly always her first reaction on seeing what was hiding beneath the wrapping paper.
Whilst Jessica's birthday is over, she knows that there is another birthday coming up soon – Sophie turns two at the end of October – and so the question has now become "how many sleeps until Sophie's birthday?"
If you have any posts about something that your children have been saying lately, please do come and link up. The linky opens each Monday from 6am and closes on Friday at 11pm so there is plenty of time to link up your posts (old and new posts are welcome!). Please add the badge below to your post so others know where they can also link up (the badge code is below). I will also try and share posts via Twitter – please use the hashtag #ftmob and I'll do my best to retweet them. I also have a Pinterest board and will be sharing posts here too.
Looking forward to reading what your little ones have been saying this week.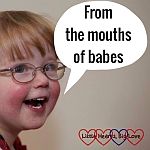 Loading InLinkz ...