From the mouths of babes is a weekly linky which invites you to share a post, old or new, about something your children have said. Those adorable mispronounced words, the glimpses into their imaginations, the blunt observations – whatever it is, I'd love to hear about it!
A big thank you to everyone who linked up last week.  R is for Hoppit always makes me smile with her posts about the things The Toddler says and I loved the latest list of funny moments. A Beautiful Abode's post about her boys' discussion of the C word also made me chuckle (whilst also cringing on her behalf!)
I was so chuffed last week when a friend commented on how good Jessica's speech was. She was a little late to start talking but once she did, there was no stopping her and she will now chatter happily all day long. One of her favourite times to talk to Mummy is at bedtime when she is snuggled next to me in my bed, wanting to tell me all the things that are on her mind. It is so lovely to listen to her chatter away to me (although sometimes I do feel the need to tell her that it's sleep time rather than talking time!) and I treasure these little moments.
Jessica has such a lovely way of talking that makes me so proud when I listen to her. She is so polite – for instance, when I say to her "do you want to sit on the potty?", she will answer "I don't need to sit on my potty, thank you Mummy" if she doesn't want to.   I was also very impressed recently by her use of grammar at the dinner table:
Sophie: "Finished!" (pushes plate away)
Jessica: ""Sophie, you have to wait. Mummy, Daddy and I are still eating"
(Sophie fidgets in her high chair)
Jessica: "You have to wait for Mummy, Daddy and me to finish."
Amazing how children pick up these things just from listening to the conversations around them.
If you have any posts about something that your children have been saying lately, please do come and link up. The linky opens each Monday from 6am and closes on Friday at 11pm so there is plenty of time to link up your posts (old and new posts are welcome!). Please add the badge below to your post so others know where they can also link up (the badge code is below). I will also try and share posts via Twitter – please use the hashtag #ftmob and I'll do my best to retweet them. I also have a Pinterest board and will be sharing posts here too.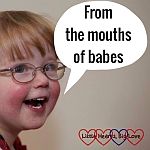 Loading InLinkz ...