From the mouths of babes is a weekly linky which invites you to share a post, old or new, about something your children have said. Those adorable mispronounced words, the glimpses into their imaginations, the blunt observations – whatever it is, I'd love to hear about it!
A big thank you to everyone who linked up last week. Domesstique's posts about the things that her daughter has said always makes me chuckle but Olivia's comment about "little girl, little brain, no space to remember many things" was a favourite of mine last week. I could definitely identify with Writing Bubble's Jekyll-and-Hyde moments of life with a toddler and her description of toddlers being like Marmite was perfect.
We've been spending the last week with my twin sister and nieces and the four cousins have been having a wonderful time together. My nieces call me "Auntie Twinny" and when Jessica arrived, my twin sister also became an "Auntie Twinny". When Jessica was a toddler, I tried to get her to say "Auntie Twinny" one day when I was talking to my sister on the phone and she kept saying "Auntie Fizz" instead. It was only later on, when we were watching the Tweenies and Jessica said "Watch Fizz!" that I realised she thought I was saying "Auntie Tweenies" and her word for the Tweenies at that time was "Fizz" (her favourite character). My sister has been Auntie Fizz every since!
Do your children have any funny nicknames for family members? I'd love to hear how they came about.
If you have any posts about something that your children have been saying lately, please do come and link up. The linky opens each Monday from 6am and closes on Friday at 11pm so there is plenty of time to link up your posts (old and new posts are welcome!). Please add the badge below to your post so others know where they can also link up (the badge code is below). I will also try and share posts via Twitter – please use the hashtag #ftmob and I'll do my best to retweet them. I also have a Pinterest board and will be sharing posts here too.
I'm linking up my monthly siblings posts this week which shares a few more of my favourite #ftmob moments from my girls.
Looking forward to hearing what your little ones have been saying.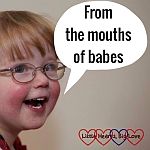 Loading InLinkz ...