From the mouths of babes is a weekly linky which invites you to share a post, old or new, about something your children have said. Those adorable mispronounced words, the glimpses into their imaginations, the blunt observations – whatever it is, I'd love to hear about it!
A big thank you to everyone who linked up last week. I loved the list of things that Monkey has said lately from Becoming a Stay at Home Mum – especially 'nockynurs' for binoculars. I also loved Nipper and Tyke sharing Jet's request for water and a lid for his aquadoodle pen in the style of a supermarket tannoy announcement – very funny.
I love Sophie's pronunciation of 'the' at the moment – when she wanders around naming things, she sounds like she's trying to learn German. Most things seem to be masculine – "der Buggy", "der Book", "der Water" although the iPad appears to be feminine – "die iPad."
Jessica has a word that forms part of a language all her own – "kalla" – it means "carry me". At bedtime when she is tired she will often ask "can you kalla, Mummy?" meaning "can you carry me upstairs to bed?" Sophie has also started saying it a few times too so I think this one might stick around for a bit.
If you have any posts about something that your children have been saying lately, please do come and link up. The linky opens each Monday from 6am and closes on Friday at 11pm so there is plenty of time to link up your posts (old and new posts are welcome!). Please add the badge below to your post so others know where they can also link up (the badge code is below). I will also try and share posts via Twitter – please use the hashtag #ftmob and I'll do my best to retweet them. I also have a Pinterest board and will be sharing posts here too.
Looking forward to hearing what your little ones have been saying.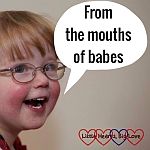 Loading InLinkz ...