From the mouths of babes is a weekly linky which invites you to share a post, old or new, about something your children have said. Those adorable mispronounced words, the glimpses into their imaginations, the blunt observations – whatever it is, I'd love to hear about it!
A big thank you to everyone who linked up last week. I had to chuckle at At Home With The Boys' son telling his dad off for not going to the toilet before leaving the house and One More Dad Blog's daughter's plot to get her brother back, written on the bathroom tiles made me smile
I have to confess that I can be very grumpy first thing in the morning until I've had that first cup of coffee, especially if my day starts quite a lot earlier than I would like. It seems that Jessica has worked out that the morning cup of coffee does make quite a difference to Mummy's mood as whilst I was sitting on the sofa, enjoying those first few sips of coffee, she looked up and asked "are you better now, Mummy?"
I also had to chuckle at the following interaction between the girls at the dinner table:
J: "It's yummy! Try it, Sophie! It's yummy!"
S: "No!" (throwing food on the floor)
J: "It's yummy. I not saying no."
S: "No!" (throws food on the floor again)
J: (sighing and mimicking Mummy's exasperated tone of voice) "Just eat it, Sophie!"
If you have any posts about something that your children have been saying lately, please do come and link up. The linky opens each Monday from 6am and closes on Friday at 11pm so there is plenty of time to link up your posts (old and new posts are welcome!). Please add the badge below to your post so others know where they can also link up (the badge code is below). I will also try and share posts via Twitter – please use the hashtag #ftmob and I'll do my best to retweet them. I also have a Pinterest board and will be sharing posts here too.
Looking forward to hearing what your little ones have been saying.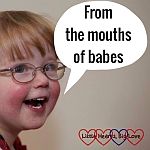 Loading InLinkz ...