Listening to my little girls chatter away amongst themselves is one of my favourite things – I love the glimpses into their imaginations, hearing those adorable little toddlerisms when they mispronounce various words and the way they love to sing to themselves.
From the mouths of babes is a weekly linky which invites you to share a post, old or new, about something your children have said. Those adorable mispronounced words, the times they repeat something they perhaps shouldn't or say exactly what they think, learning a new word for the first time – whatever it is, I'd love to hear about it!
A big thank you to last week's lovely linkers. I loved reading Becoming a Stay at Home Mum's update on Monkey at 35 months – him saying "I really nove you" and "I'm so troud of you!" was just heart-melting. Odd Socks and Lollipops shared who Boo was voting for – food and comfort were high on Boo's priority lists with "Baba" (boobs) getting her vote!
I've posted before about how teaching my girls good manners is very important to me. Sophie has been saying "dank-oo" for quite some time now but "peese" has been added to the repertoire on a regular basis this week. It is quite adorable to see her look at something and point to it, asking for it first and then adding "peese?" so sweetly.
"Abuh. Peese?" (A book, please)
"Wan' booby. Peese? Peese, Mummy. Wan' booby." (I want milk please Mummy)
I also love hearing Sophie calling for her big sister to come and play – hearing that little voice calling "Jess-sha! Jess-sha!" melts my heart every time I hear it, especially as it is often followed by Jessica giving her baby sister a big cuddle and announcing "I love my Sophie!"
If you'd like to share your posts about something your children have said (or sung!), then please add the badge code below and link up with me. The linky opens each Monday from 6am and closes on Friday at 11pm so there is plenty of time to link up your posts (old and new posts are welcome!). I will also try and share posts via Twitter – please use the hashtag #ftmob and I'll do my best to retweet them. I also have a Pinterest board and will be sharing posts here too.
Looking forward to hearing what your little ones have been saying.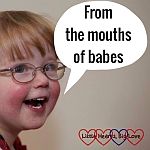 Like my blog? Nominations are now open for the MAD Blog Awards and you can vote for me here: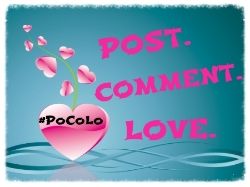 Loading InLinkz ...