From the mouths of babes is a weekly linky which invites you to share a post, old or new, about something your children have said. Perhaps they have just started babbling for the first time, or said their first definite word. It could be something cute, or funny, or incredibly embarrassing – whatever it is, I'd love to hear all about it.
Thank you so much to everyone who linked up last week – I really enjoyed reading all your posts about the things that your little ones have been saying and there were so many adorable moments from last week's posts. I loved Mummy Tries' post with her daughter saying "coopanumbers" for cucumbers – such a wonderful little toddlerism – and Becoming a Stay at Home Mum describing how Monkey chats away to "Mr Tato Head".
It's interesting to see how children reflect your little sayings back to you once they start talking – as well as potentially repeating things that you'd really rather they didn't! Thankfully we've not had too much of the latter (so far) but I've definitely learned more about what kinds of things I say almost without thinking through listening to some of the things that Jessica says:
"Hello darling, did you have a nice sleep?" – to Sophie after she woke from her nap
"Because I said so!" – in response to Mummy asking a question
"Of course!" – I hear this one many times a day in response to questions.
"Cheerio, nice to see you!"
"Oh that's wonderful!" – in response to someone showing her a photo of a dog on their phone.
Sophie also has started joining in with some of the things I say:
"Get down!" – when seeing Jessica standing on the sofa (although the words "Get down" are more usually aimed at Sophie when I say them as she is a little climber!)
Some of the things that Jessica now says are clearly phrases she has picked up from preschool and one I frequently hear is "No! These are for everybody!" if Sophie tries to take something away from her.
And then there are other phrases picked up from other groups and CBeebies programmes:
"Go, go, go, go, go!" when crossing the road at a pelican crossing (thank you, Bing Bunny!) – which sounds very adorable when Sophie says it as it is more of a "doe, doe, doe!"
"One, do, dee, yaaaaay" – Sophie when she picks up a dolly's blanket and shakes it like it's the parachute in our toddler signing class.
If you'd like to share your posts about something your children have said (or sung!), then please add the badge code below and link up with me. The linky opens each Monday from 6am and closes on Friday at 11pm so there is plenty of time to link up your posts (old and new posts are welcome!). I will also try and share posts via Twitter – please use the hashtag #ftmob and I'll do my best to retweet them. I also have a Pinterest board and will be sharing posts here too.
Look forward to hearing what your little ones have been saying.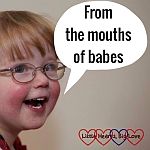 Loading InLinkz ...