From the mouths of babes is a weekly linky which invites you to share a post, old or new, about something your children have said. Perhaps they have just started babbling for the first time, or said their first definite word. It could be something cute, or funny, or incredibly embarrassing – whatever it is, I'd love to hear all about it.
Thank you so much to everyone who linked up last week – I really enjoyed reading all your posts about the things that your little ones have been saying – the embarrassing and funny things and the adorable moments. I thought "Mummy, a flanoo for the wiping, peese" said by Writing Bubble's toddler in a rather regal fashion was particularly adorable and had to chuckle at Sounding Like My Mother's DS1 being concerned about music staying on a CD if it was downloaded on to a computer. It made me realise how some things that I remember being quite new technology are now quite antiquated as far as our children are concerned!
Sophie is now at the stage when she knows what she wants and is getting very good at asking for demanding it. Her favourite words now seem to be "I want…" followed by whatever it was that she is after at that particular moment:
"I want duddle" (cuddles)
"I want get down" (usually when being held or if she's been a little too adventurous with regards to treating the sofa/furniture as her own personal soft-play area).
"I want 'nana" (banana)
"I want booby" (feeding)
At some point, hopefully we'll be able to teach her to ask for things in a slightly less demanding way. Jessica still says "I want" a lot although we are making some headway with encouraging her to say "please may I have…?" instead.   These days though, Jessica is much better at telling you what she doesn't want. "I not want it" is a much-used expression at the moment as is "I not like it" The latter expression seems to be a particular favourite at mealtimes – we are going through a picky stage at the moment and so "I not like it" seems to apply to everything except cake, chocolate and ice lollies. Usually the picky stages tend to be reasonably short-lived if they are mostly ignored so fingers crossed this is a brief phase!
If you'd like to share your posts about something your children have said (or sung!), then please add the badge code below and link up with me. The linky opens each Monday from 6am and closes on Friday at 11pm so there is plenty of time to link up your posts (old and new posts are welcome!). I will also try and share posts via Twitter – please use the hashtag #ftmob and I'll do my best to retweet them. I also have a Pinterest board and will be sharing posts here too.
Look forward to hearing what your little ones have been saying.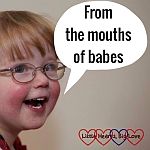 Loading InLinkz ...