From the mouths of babes is a weekly linky which invites you to share a post, old or new, about something your children have said. Perhaps they have just started babbling for the first time, or said their first definite word. It could be something cute, or funny, or incredibly embarrassing – whatever it is, I'd love to hear all about it.
Thank you so much to everyone who linked up last week – I really enjoyed reading all your posts about the things that your little ones have been saying – the embarrassing and funny things and the adorable moments. That moment when babies start to babble and giggle is such a beautiful one and I love little Pudding's infectious chuckle that Sticky Mud and Belly Laughs shared. I also love Boo's unsubtle way of letting Grandma know it is time to go – thank you Odd Socks & Lollipops for sharing.
I'm a bit of a stickler for manners with my children – 'thank you' was one of the first signs that both Jessica and Sophie mastered. Sophie has been saying "dank-oo" for a couple of weeks now but she now will say it in response to being given something or when prompted with "what do you say?" which makes me very happy. This week she has also started saying "please" too.
We're still working a bit on table manners (they are only little children after all!) but I had a lovely moment with Jessica when she was nearly two when she got down from the little table at my mum's house to wander about mid-way through dinner. Without really thinking I said "did Mummy say you could get down from the table?" and to my amazement she instantly went back to the table and sat herself back down!
If you'd like to share your posts about something your children have said (or sung!), then please add the badge code below and link up with me. The linky opens each Monday from 6am and closes on Friday at 11pm so there is plenty of time to link up your posts (old and new posts are welcome!). I will also try and share posts via Twitter – please use the hashtag #ftmob and I'll do my best to retweet them. I also have a Pinterest board and will be sharing posts here too.
Look forward to hearing what your little ones have been saying.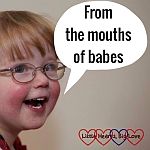 Loading InLinkz ...