We're starting to adjust now to the change in routine that has come with Jessica being in school full-time. It has felt very strange not having my big girl at home for a large chunk of the day but I am really enjoying those one to one moments that I can now have with Sophie. This is the first time that Sophie has had me so completely to herself. When Jessica was at preschool, the morning would pass in a bit of a blur. I don't think I ever really made the most of that time with Sophie. Now we have the full day, we are going out on adventures together, having fun in the garden or just sitting and having snuggles on the sofa. I am becoming more aware of the little person that Sophie is by herself, rather than seeing my girls as a little duo. It feels like I am getting to know her in a whole new way as a result, which is magical.
I love seeing how excited Sophie is when it comes to pick-up time though – the way she peers through the school gate, waiting eagerly for it to be opened; the way she runs to the classroom door and the way she and Jessica give each other the biggest cuddle when they are reunited. It seems that being apart has just strengthened that beautiful bond between them and to see their delight at being together again once Jessica is home is wonderful.
Things I have loved this week:
Jessica being awarded a "WOW of the week" at school for trying hard with everything.
Joining in with a community fundraising day and having fun building a scarecrow with hubby and the girls.
Winning the Inspire award in the #tribalchat blog awards.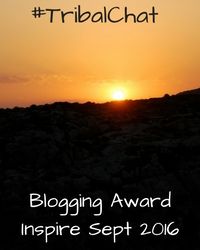 Having a picnic in the garden with Sophie and her toys.
Sitting in the garden and eating ice lollies.
Being able to get the paddling pool out and watching the girls having fun in it.
Going for a walk with Sophie and finding a "witch's cottage" in the woods.