From the mouths of babes is a weekly linky which invites you to share a post, old or new, about something your children have said. Those adorable mispronounced words, the glimpses into their imaginations, the blunt observations – whatever it is, I'd love to hear about it!
A big thank you to everyone who linked up last week. I loved Occupation (M)other's latest list of some of the 18 million things she loves about her son – "Mummy Sir!" and "Daddy Sir!" particularly made me chuckle.  I also loved the beautiful imagery in Conversation with Hank's story about the Island of Bedfordshire.

Jessica had her home visit from her new teacher last week. She was happily sitting on the floor playing with the teaching assistant while I chatted to her new teacher.  At one point, she had some toys lined up was counting them.  She counted from one to ten and then looked up and said:
"And again in French! Un, deux, trois, quatre, cinq, six, sept, huit, neuf, dix ! "
I was a bit taken aback – I know she can count in French and say several words now but I really wasn't expecting her to do so in front of her teacher!
As the teacher was leaving she asked:
"Mummy, can I have an ice lolly."
"No, darling," I replied, "we don't have any ice lollies."
"Oh yes, we do, Mummy," Jessica said.  "Daddy bought some the other day!"
No pulling the wool over her eyes then!
If you have any posts about something that your children have been saying lately, please do come and link up. The linky opens each Monday from 6am and closes on Friday at 11pm so there is plenty of time to link up your posts (old and new posts are welcome!). Please add the badge below to your post so others know where they can also link up (the badge code is below). I will also try and share posts via Twitter – please use the hashtag #ftmob and I'll do my best to retweet them. I also have a Pinterest board and will be sharing posts here too.
Looking forward to reading what your little ones have been saying!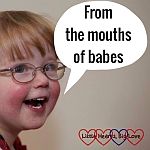 Loading InLinkz ...