From the mouths of babes is a weekly linky which invites you to share a post, old or new, about something your children have said. Those adorable mispronounced words, the glimpses into their imaginations, the blunt observations – whatever it is, I'd love to hear about it!
A big thank you to everyone who linked up last time. Inside Martyn's Thoughts really made me chuckle with the boys' comments about their sausages (whilst eating chips on the beach!) and their cactus. On a more serious note though, Conversations with Hank's post about the US Election and Donald Trump brought a lump to my throat when reading about Hank's thoughts on the world and how much he cares about the state of it.
It's good to be back again after a couple of weeks' off due to Jessica going into hospital for a cardiac catheter procedure followed by a family holiday.  It's been lovely to have a bit of a break but I'm looking forward to reading all the things your little ones have been saying once again!
Jessica made me so very proud during her hospital admission – she coped so beautifully with everything.  I loved the way she referred to going into hospital as "going for a sleepover at the doctors" and told me "I am going to be a very brave girl, Mummy" – she certainly was that.  Right up to the moment we were heading off to the cath lab, she still had that sunny smile firmly in place and was quite excited when the theatre trolley (or in her words "my carriage") appeared.
As she was waiting to go into the anaesthetic room, she found a Megasketcher drawing board and kept herself (and us) entertained drawing a picture of "Kerry [her dolly] and the shadow monster.  The shadow monster is eating Kerry.  Oh no, he's a nice shadow monster really, he just wants to play with her."  She kept chatting away while the anaesthetist was getting everything ready and although she objected slightly to the "sleepy milk" going into the cannula in her arm – "it feels funny" – she was smiling and chatting right up to the point when she went off to sleep.  I have to say it helped me to be strong for her, although I did have a little cry after leaving her.
Not too surprisingly, Jessica wasn't quite so happy when she woke up but we had lots of snuggles together until she started feeling better again.  Within a few hours, she was mostly back to her usual happy self, keeping up an endless stream of conversation with the nurses as they came to check her obs and see how she was getting on.
I'm glad that Jessica coped so well with being in hospital again and even though there were moments when she did get upset at the various tests and the poking and prodding (especially with having the "ouchy stickies" (dressings) removed before going home), on the whole she saw her stay in hospital as one big adventure.  I'm aware though that this was a fairly minor procedure and that it's likely to be a very different story when she eventually goes in for her Fontan procedure (the next big heart op) but for now, I'm thankful that the hospital holds no fear for her.
If you have any posts about something that your children have been saying lately, please do come and link up. The linky opens each Monday from 6am and closes on Friday at 11pm so there is plenty of time to link up your posts (old and new posts are welcome!). Please add the badge below to your post so others know where they can also link up (the badge code is below). I will also try and share posts via Twitter – please use the hashtag #ftmob and I'll do my best to retweet them. I also have a Pinterest board and will be sharing posts here too.
Looking forward to reading what your little ones have been saying!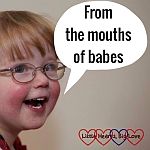 Loading InLinkz ...