Happy New Year to all my lovely linkers and if you're new to the #ftmob community – welcome! From the mouths of babes is a weekly linky which invites you to share a post, old or new, about something your children have said. Those adorable mispronounced words, the glimpses into their imaginations, the blunt observations – whatever it is, I'd love to hear about it!
A big thank you to everyone who linked up last time. I loved Life with Baby Kicks' family update and chuckled over a sequence of questions from her eldest thankfully ending with a less awkward one than expected! I also loved Mummy Tries' post sharing some of the words her 22 month old uses – it was so beautifully written, I could almost hear him saying them.
Sophie is going through a very adorable phase at the moment and has some beautiful affectionate moments. My current favourite is the way that she will suddenly announce "Big hug!" and run at you with her arms outstretched. She might almost knock me off my feet at times but I love it.
She can be quite a little pickle though and sometimes Mummy gets a bit cross and shouts. One time I got annoyed with her, only for her to look at me, give me her biggest, brightest smile and say sweetly "don't be ang-wee, Mummy. Gi' me a tiss!" Who can stay angry when faced with that?
One afternoon, I was trying to call hubby on his mobile.  He was having signal issues at his end which resulted in me not being able to hear him at times. The conversation was punctuated with "hello? Helloooo?" All of sudden I heard a little voice next to me "Hello? Hellooo? Hellooo?" She was holding her water bottle next to her ear and copying me. Hubby and I had trouble continuing our conversation, we were both laughing too much!
The festive season can be rather exhausting and at one point, I was trying to have a sneaky doze on the sofa while the children were watching Peppa Pig. It was a little disconcerting to suddenly wake finding a toddler holding a cushion over your face whilst gleefully announcing "night night Mummy!"
If you have any posts about something that your children have been saying lately, please do come and link up. The linky opens each Monday from 6am and closes on Friday at 11pm so there is plenty of time to link up your posts (old and new posts are welcome!). Please add the badge below to your post so others know where they can also link up (the badge code is below). I will also try and share posts via Twitter – please use the hashtag #ftmob and I'll do my best to retweet them. I also have a Pinterest board and will be sharing posts here too.
Looking forward to reading what your little ones have been saying this week.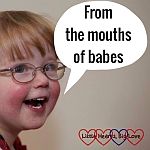 Loading InLinkz ...