From the mouths of babes is a weekly linky which invites you to share a post about something your children have said. Perhaps they have just started babbling for the first time, or said their first definite word. It could be something cute, or funny, or incredibly embarrassing – whatever it is, I'd love to hear all about it.
A big thank you to everyone who linked up last week – I loved hearing the fashion advice from a 4 year old that Hope from a Butterfly shared, a cheeky response from Boo over at Baby Chaos and a whole list of funny, crazy things that Lifestyle Maven's kids have said.
This week I'm sharing a video from when Sophie was 6 months old and starting to wean.  She was eating puréed courgette and babbling away so I thought I'd capture her babbling on video.  What I didn't notice until I played the video back later was just how musical that babbling was – in fact, it sounds just like she is trying to sing the first line of the national anthem.  What a shame I interrupted – who knows how far she would have got with it!  It's still one of my favourite video clips ever – hope you enjoy it!
If you'd like to share your posts about something your children have said (or sung!), then please add the badge code below and link up with me. The linky opens each Monday from 6am and closes on Friday at 11pm so there is plenty of time to link up your posts. I will also try and share posts via Twitter – please use the hashtag #ftmob and I'll do my best to retweet them.  I also have a Pinterest board and will be sharing posts here too.
Look forward to reading your posts!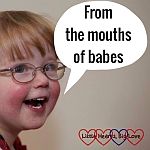 Loading InLinkz ...