From the mouths of babes is a weekly linky which invites you to share a post, old or new, about something your children have said. Those adorable mispronounced words, the glimpses into their imaginations, the blunt observations – whatever it is, I'd love to hear about it!
A big thank you to everyone who linked up last week. Mum Amie shared some of the loudly-asked questions from her daughter which have made her cringe at times. I loved the reminder at the end of this post that children ask these kinds of things out of curiosity and not because they are being naughty – sometimes it is easy to forget that. Thankfully Confessions of a Crummy Mummy's daughter chose to ask why Mummy was wearing "silly pants" in the privacy of her own home – a discussion about the appeal of thongs is perhaps best avoided in public!
Sophie has been very chatty lately and I love her adorable sayings and mispronunciations. Here are some of the things she has said this week:
Sophie climbing up on the sofa to show me her toys:
"Dat Tag" (puts Tag down and picks up Sula) "dat Sula" (puts Sula down and gives me a big grin whilst holding her arms out wide) "Dat me!"
Sophie playing with her tea set:
"Dare's your teacup, Mummy" (Mummy pretends to drink tea and hands back the 'empty' cup to Sophie who pours some more pretend tea into the cup) "Dare you go, Mummy. Dare's your more."
Sophie at the Remembrance Sunday service during a quiet moment in the prayers:
(Sitting on Mummy's lap and pointing to her face) "Eyes, nose, mouth…" (unzips Mummy's cardigan) "…boobies! Want boobies! Boobies!" (getting louder as I try to quieten her down) "Boobies Mummy! Want boobies!"
Cue a red-faced Mummy hastily taking Sophie out to the vestibule. I wasn't quite prepared for this one given Sophie stopped breastfeeding a couple of weeks ago. On the plus side, at least she didn't do this during the two minute silence.
If you have any posts about something that your children have been saying lately, please do come and link up. The linky opens each Monday from 6am and closes on Friday at 11pm so there is plenty of time to link up your posts (old and new posts are welcome!). Please add the badge below to your post so others know where they can also link up (the badge code is below). I will also try and share posts via Twitter – please use the hashtag #ftmob and I'll do my best to retweet them. I also have a Pinterest board and will be sharing posts here too.
Looking forward to reading what your little ones have been saying this week.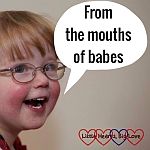 Loading InLinkz ...
Save