From the mouths of babes is a weekly linky which invites you to share a post, old or new, about something your children have said. Those adorable mispronounced words, the glimpses into their imaginations, the blunt observations – whatever it is, I'd love to hear about it!
A big thank you to everyone who linked up last week. I loved Writing Bubble's post sharing some of the things her sons have said recently: "awollawong" (another one) from her toddler and "a dolphin mouth" (endorphin rush) from her eldest son both made me chuckle. Sticky Mud and Belly Laughs also made me laugh with her account of Monkey coming in the bathroom "for a poo and a chat" while she was in the bath.
Like many other children her age, Jessica loves the film Frozen. I quite enjoy the endless renditions of "Let it go" from both her and Sophie – I probably find myself singing it just as much as they do – but there is one particular phrase which Jessica uses on a regular basis that I'm not quite so keen on:
"The sun's awake, so I'm awake!"
It's usually said far too early in the morning for my liking, and with the mornings getting darker, more often than not, the sun's not awake yet – and neither is Mummy.
It's safe to say, I'm not really a morning person. I'm usually a bit grumpy and cranky, at least until I've had my first cup of coffee. It takes me a little time to wake up properly. Jessica and Sophie seem to go from fast asleep to wide awake in an instant and my pleas one morning to stop asking so many questions until I'd had some coffee and woken up a bit, got a very bemused response from Jessica:
"Why do you need to wake up? It's waking up time already! Can we do some making?"
Now don't get me wrong, I love doing crafts with the girls. Just not before 7 o'clock in the morning, and definitely not before coffee!
I have occasionally been known to resort to "the CBeebies snooze" if I'm feeling particularly sleep-deprived. A quick doze on the sofa while the children happily watch a bit of TV can work wonders. Jessica even suggested this one day when I was grumpy due to feeling tired.
"Why don't you have a nap on the sofa, Mummy? I look after you. Lie down and take off your glasses…"
Aww bless, don't mind if I do…zzzzzz
If you have any posts about something that your children have been saying lately, please do come and link up. The linky opens each Monday from 6am and closes on Friday at 11pm so there is plenty of time to link up your posts (old and new posts are welcome!). Please add the badge below to your post so others know where they can also link up (the badge code is below). I will also try and share posts via Twitter – please use the hashtag #ftmob and I'll do my best to retweet them. I also have a Pinterest board and will be sharing posts here too.
Looking forward to reading what your little ones have been saying this week.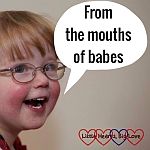 Loading InLinkz ...