From the mouths of babes is a weekly linky which invites you to share a post, old or new, about something your children have said. Those adorable mispronounced words, the glimpses into their imaginations, the blunt observations – whatever it is, I'd love to hear about it!
A big thank you to everyone who linked up last week. I loved One More Dad Blog's daughter's assertion that she needed her beauty sleep and Growing Wild Ones' list of funny things that her kids have said lately – Mommy's always right, Daddy's always pooping and the baby's made of "Bones 'n' Blood".
There's a meme that has been doing the rounds on Facebook recently all about asking your children to answer 23 questions and sharing the answers. Here are the questions and Jessica's responses:
1. What is something Mummy always says to you? 
Please and thank you
2. What makes Mummy happy?
Me weeing on the potty
3. What makes Mummy sad?
The telly
4. How does Mummy make you laugh?
Do a wee-wee on the potty
5.  What was Mummy like as a child?
She was a little boy
6.  How old is Mummy?
5
7. How tall is Mummy?
5
8, What is Mummy's favourite thing to do?
Go to play group
9. What does Mummy do when you're not around?
Mummy has a sticker
10. If Mummy becomes famous, what will it be for?
Stickers
11. What is Mummy really good at?
Stickers
12. What is Mummy not very good at?
Mummy sad
13. What does Mummy do for a job?
Stay inside
14. What is Mummy's favourite food?
Crisps
15. What makes you proud of Mummy?
I love you
16. If Mummy was a character, who would she be?
Uncle Pig
17. What do you and Mummy do together?
We do some drawing
18. How are you and Mummy the same?
I don't know
19. How are you and Mummy different?
I'm Jessica.
20. How do you know Mummy loves you?
Cuddles!
21. What does Mummy like most about Daddy?
Him working
22. Where is Mummy's favourite place to go?
Play group. I go to Legoland!
23. How old was Mummy when you were born?
I don't know.
If you fancy joining in and asking your children the same 23 questions, I'd love it if you could link back here so I can see your children's responses too. If you have any other posts about something that your children have been saying lately, please do come and link up. The linky opens each Monday from 6am and closes on Friday at 11pm so there is plenty of time to link up your posts (old and new posts are welcome!). Please add the badge below to your post so others know where they can also link up (the badge code is below). I will also try and share posts via Twitter – please use the hashtag #ftmob and I'll do my best to retweet them. I also have a Pinterest board and will be sharing posts here too.
Looking forward to hearing what your little ones have been saying.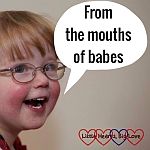 Loading InLinkz ...