Children come out with such wonderful sayings at times. When they are little, they have no qualms at all about saying exactly what they think and a habit of mimicking what they hear. Some of the things they say are utterly adorable, others may be unintentionally humorous and a few are incredibly embarrassing (but often funny with hindsight!).
From the mouths of babes is a weekly linky which invites you to share a post, old or new, about something your children have said. Perhaps they have just started babbling for the first time, or said their first definite word, or perhaps repeated something that you'd really wished they hadn't – whatever it is, I'd love to hear about it!
Last week we had some wonderful little moments and glimpses into children's imaginations being shared. I loved the reassuring comments from Hope from a Butterfly's daughter as she headed back to work after maternity leave and Life with Baby Kick's toddler saying "I kiss your face. I kiss your other face" whilst doing a French-style double kiss!
We recently visited Bekonscot model village and listening to Jessica tell Daddy all about it was delightful. She was so animated and excited, remembering all the little details – the model man falling off the ladder, the miniature lady cleaning the windows and the tiny chimps having a tea party in the zoo. The fish in the pond had also caught her attention:
Jessica: "There were big fish going…" <opens and closes mouth doing fish impression>
Mummy: "They were carp"
Jessica: "No Mummy they weren't in cars, they were in the water!"
I often hear Jessica singing around the house; she loves making up little songs. She was singing to herself at the dinner table last night – it sounded so adorable until I realised what the words were: "you are smelly and bossy, bossy, bossy…" Charming! No idea where she's picked that one up – thankfully it didn't seem to be aimed at anyone in particular!
My girls are both very affectionate and this has been particularly evident over the last week.  I've been getting so many "I love you"s from both children – from Sophie's adorable "I lul loo" to Jessica's wonderfully spontaneous "I love my Mummy!" followed by huge "duddles" (as Sophie calls them) from both.
If you'd like to share your posts about something your children have said (or sung!), then please add the badge code below and link up with me. The linky opens each Monday from 6am and closes on Friday at 11pm so there is plenty of time to link up your posts (old and new posts are welcome!). I will also try and share posts via Twitter – please use the hashtag #ftmob and I'll do my best to retweet them. I also have a Pinterest board and will be sharing posts here too.
Looking forward to hearing what your little ones have been saying.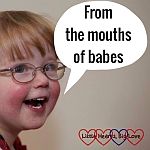 Loading InLinkz ...