From the mouths of babes is a weekly linky which invites you to share a post, old or new, about something your children have said. Those adorable mispronounced words, the glimpses into their imaginations, the blunt observations – whatever it is, I'd love to hear about it!
A big thank you to everyone who linked up last week.  I loved Becoming A Stay At Home Mum's latest update on Monkey at 4 and all the things that he's been saying and Susan K. Mann's fabulous list of the things her children have been saying.
We were talking about when Jessica goes to big school and when Sophie will start preschool the other morning.  Jessica told me: "When Sophie is bigger and goes to preschool, I will be smaller and stay at home with Mummy." Oh if only we could occasionally "pause things backwards" as Jessica would say – wouldn't it be nice to have the odd day or two with the girls both being tiny again!
We have recently started sitting Sophie on the potty every now and then to try and get her used to it before we start potty training.  Jessica has been quite indignant about it though: "Sophie you can't sit there! Potties aren't for babies, they're for big girls!"  Hate to break it to you kiddo, but your sister isn't really a baby anymore…!
We were having Sunday lunch at Grandma's house and Jessica wanted some gravy on her dinner.  I think she was a little confused as to what was actually in the jug: "Grandma, please may I have the oil?"
Every so often, there are moments that I really wish I'd managed to capture on video.  I came downstairs having run the bath the other night to find Sophie on one side of the lounge door, Jessica on the other and Sophie knocking on the door and singing the last verse of "Do You Want To Build A Snowman?" which is even more heartbreaking when sung in an adorable toddler voice.  Pass the tissues, please!
I'll be taking a bit of a break from #ftmob over the next couple of weeks as Jessica is due to go into hospital for a cardiac catheter procedure.  Hopefully all being well #ftmob will be back again on 20th June.
If you have any posts about something that your children have been saying lately, please do come and link up. The linky opens each Monday from 6am and closes on Friday at 11pm so there is plenty of time to link up your posts (old and new posts are welcome!). Please add the badge below to your post so others know where they can also link up (the badge code is below). I will also try and share posts via Twitter – please use the hashtag #ftmob and I'll do my best to retweet them. I also have a Pinterest board and will be sharing posts here too.
Looking forward to reading what your little ones have been saying!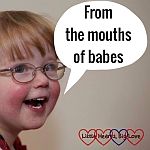 Loading InLinkz ...