Joining in with blog linkys is a great way of finding other blogs to read and becoming part of a wider community of bloggers as well as helping make your own blog more visible to other bloggers. There are a huge range of different linkys out there for bloggers to take part in – some are based around themes, others are much more general.
What is a linky?
A linky is where a host blog invites other bloggers to share links to blog posts. There are various different tools used to host them which look slightly different – some are text-based; others show thumbnail images. When the linky is open, there will be a button to click on the host's blog which will take you to a form where you can fill in the details of the post you'd like to link up.
Are there any rules?
As linkys are a way of building community, most will ask that you visit other blogs participating in the link up. It is good etiquette to visit the host blog and leave a comment and to visit at least a couple of other blogs. I will usually visit the blogs who have linked up just before me (or just after me if I'm one of the first to link up) and then perhaps a few others of particular bloggers or whose post titles or images appeal to me as well as the host blog.
There is often a linky badge to add to the blog post being linked up which is a way of letting other people know about the linky so that they can also participate. The code for this will be found on the host blog – either in the main linky post, in their sidebar or both.
Sometimes the linky is on a particular theme and invites bloggers to link up posts on that theme, for example Word of the Week by the Reading Residence; others, such as Post, Comment, Love hosted by Verily Victoria Vocalises, are more general. Sometimes the post linked up needs to be recent, other times old posts can be linked up. The blog hosting the linky will usually share their rules or guidelines with regards to joining in.
As well as being a wonderful way of building community, linkys can also be a good source of inspiration for blog posts and some also provide a prompt for participating blogs – like The Prompt from Mum Turned Mom.
What are blog hops and blog carnivals?
A blog hop is a type of linky where participating blogs also add a piece of code on to the end of the post they are linking up to display the list of other participating blogs to allow those joining in to 'hop' from one blog to another without having to go back to the original link up.
With blog carnivals, the participating bloggers send their blog links directly to the host who then puts together a post containing some (or all) of those links.
There are a huge variety of linkys out there to choose from – some run weekly, some monthly, some are seasonal. You can find a list of the different linkys I have taken part in on my Links I Love page.
I also host two linkys regularly – From the mouths of babes, a linky about the things children say, which opens every Monday and a monthly linky for heart families called Heart to Heart which opens on the 15th of each month.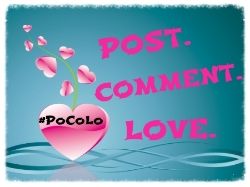 Like my blog? Nominations are now open for the BiBs award – you can find the form here: